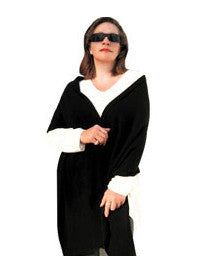 Womens Soft Black Ribbed Cashmere Long Scarf/Wrap
Regular price
£125.00
In Stock
Luxurious Black Ribbed Cashmere
387 grams
85" long x 20" wide
COLOUR: BLACK
Exclusive to vivi-direct
Wear as Shawl and Soft enough to Loop as Scarf
Investment dressing
Washable
VIVIANE CHANTALE
has used a substantial ribbed cashmere in a long cashmere scarf which can also be worn as a wrap.
The cashmere scarf/wrap measures approximately 85" x 20" and can be worn looped as a scarf or collar with the matching cashmere poncho, or with any other garment. Alternatively, the cashmere scarf/wrap can be draped over one shoulder "Scottish style", or worn traditionally round the shoulders for maximum warmth.
Either way, the cashmere scarf/wrap adds luxury, style and warmth to any outfit, at any time of the year and for any occasion.
The cashmere rib knit has a normal cross-section of about 3mm and this cashmere scarf/wrap weighs only about 375g. Its lightness makes it easy to pack into luggage for the emergency cool snap, or carry along for a summer evening occasion or an open-air concert.
What can be more chic than a black cashmere wrap. One could say that this is when warmth is "cool"!
You might also like